Sadaharu Muramatsu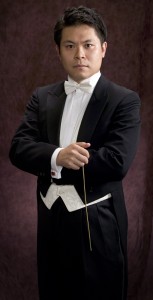 Born in Aichi, Japan and based in Sydney, Australia, Dr. Sadaharu Muramatsu (Sada) is the artistic director of Strathfield Symphony Orchestra, artistic director of Symphonia Jubilate, conductor of Sydney Youth Orchestra / Western Sydney Youth Orchestra, lecturer and conductor of Excelsia College (formerly Wesley Institute), music director of Excelsia Chamber Orchestra and conductor of Suzuki Cello Ensemble.

In Sydney, Sada has conducted the Penrith Symphony Orchestra, Rockdale Opera Company, Sydney Camerata and many other ensembles. He was a choirmaster of Willoughby Symphony Choir from 2013 to 2015 and Eastern Sydney Chamber Choir from 2010 to 2011. Recently, he also conducted the Nagoya Philharmonic Orchestra and Central Aichi Symphony Orchestra in Japan.

Sada completed a Masters of Music in Conducting at the Royal Northern College of Music in Manchester, UK. Subsequently, he was granted a fellowship to study conducting at the Sydney Conservatorium of Music, University of Sydney under the Japanese Government Overseas Study Program for Artists. Sada resides in Australia under a Distinguished Talent visa granted by the Australian Government for his achievements as a conductor.

His accomplishments include receiving recognition in the NSW State Parliament for his significant contributions to music in the local Strathfield Area (2022), Japanese Foreign Minister's Commendations (2019), Consul-General of Japan's Commendation Award in Sydney (2018), an Honorary Doctorate in Music from his alumnus Anglia Ruskin University in Cambridge, UK (2011), second prize in the Vienna Summa Cum Laude International Youth Music Festival with the Wesley Institute Choir in the Golden Hall, Musikverein, Austria (2011), finalist and awarded Special Prize of the Jury at the Emmerich Kalman International Conductor's Competition at the Budapest Operetta Theatre, Hungary (2007), semi-finalist in the 2nd Bartok Bela International Opera-Conducting Competition in Romania (2007), Mortimer Furber Prize for Conducting in Manchester, UK (2005), and first prize at the ISIS Conducting Competition in Cambridge, UK (2001).

Sada studied conducting under Imre Pallo, Kurt Masur, Sir Mark Elder CBE, Hirofumi Misawa and Kazuki Sawa.